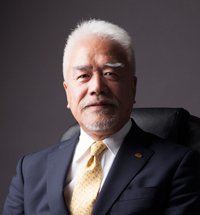 大阪日米協会会長
立野 純三
昨年、設立70周年を迎えた当協会の運営を担うことになり、身に余る光栄と存じますとともに、その責任の重大さに身の引き締まる思いがいたします。当協会は「日米両国民の親睦と相互理解をはかり、文化の交流に寄与することを目的とする」という趣旨で設立されて以来、その目的を達成するための多岐に亘る活動が、今日までの良好な日米関係の構築に大いに貢献してきたと思います。日本を取り囲む環境は米国新大統領の政策運営や欧州の政治情勢、中国経済の動向、中東や北東アジアの地政学的リスクなど不透明な要因は多々あり、注視を要する状況となっております。そのような環境下において、近隣諸国をはじめとした様々な国との協調関係が必要なことは勿論ですが、日米関係の関係をゆるぎないものにすることが、今後ますます重要になることは言うまでもありません。日米関係を担う若い世代が日米双方の文化・歴史・国民性等を学び、触れ合うことによって、日米関係の重要性を認識し継続出来るよう、全総力をあげて魅力ある活動を推し進めてまいりたいと思います。これまでと変わらぬご支援・ご協力を賜りますよう、お願い申し上げます。
I am honored to have been appointed to succeed Mr. Kawasaki as President of the Japan-America Society of Osaka.
I accept fully the privilege, as well as the serious responsibility, of overseeing the operation of this association that just last year celebrated its 70th anniversary.
It is no exaggeration to say that a wide range of activities has contributed greatly to good Japan – US relations to date since establishing the association with the aim of "promoting fellowship, mutual understanding and cultural exchange between the peoples of Japan and the United States."
A variety of uncertainties exist that require constant observation in the environment surrounding Japan, such as geopolitical risks in the Middle East and Northeast Asia, trends in the Chinese economy, the political situation in Europe, and the policies of the new President of the United States.
It goes without saying that in such an environment it will be increasingly important to make the relationship between Japan and the US robust as well as to have cooperative relationships with various countries, including our neighbors.
We take the philosophy of our association seriously in order that the younger generation responsible for the US-Japan relationship recognize the importance of Japan-US relations by learning and contacting the culture, history and national character of both the US and Japan.
I appreciate your continued support and cooperation in pushing forward with attractive activities and increasing our overall power.
Junzo Tateno
President
Japan-America Society of Osaka